Skip Main Navigation
Supersizing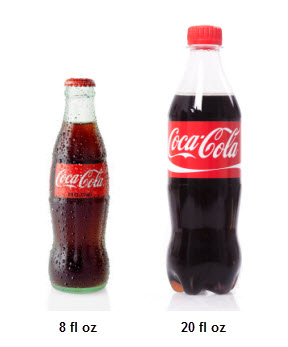 Portion sizes for sodas have increased over the years.
In the last activity, you learned about nutrition and how important it is to choose foods that provide a variety of nutrients. But it is also important to consider the portion size portion size of the foods you eat.
Portion sizes for beverages and meals have steadily increased over the years. The average size of a bottle of soda twenty years ago was eight ounces. Today, the average size is 20 ounces-more than double the original size.
Research shows that people tend to eat and drink more than they normally would when presented with larger sizes. This is one reason why nutrition experts believe that increased portion sizes play a role in our nation's obesity crisis.
Explore the following resources to learn more about portion sizes. Then use what you've learned to answer the questions on page 4 in your Engineering Portfolio.
On the link below, you will learn the difference between portion sizes and serving sizes, and see what recommended serving sizes look like. Read the text and then click on that page's "Portion Distortion I" in the right-hand sidebar to test your knowledge of how portion sizes have changed over the last 20 years.
> Keep an Eye on Portion Size


(from Department of Health and Human Services)
Although a ban on "supersized" drinks in New York City was struck down, the following article, written while the ban was in effect, conveys thoughts from both sides of the story.
> New York City Approves Ban on Large Sodas


( From U.S. News)
Examine this CDC report:
> Do Increased Portion Sizes Affect How Much We Eat? (PDF)


(from Centers for Disease Control)