Skip Main Navigation
Explore Possibilities: Art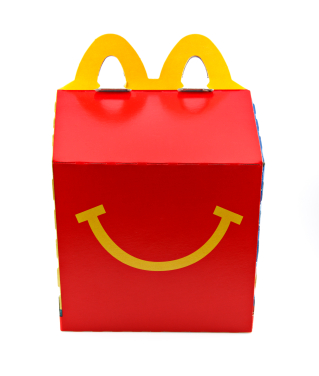 The McDonald's® Happy Meal® box is one of the most popular packages for a children's meal.
What is it about fast food children's meals that are so appealing to kids? Certainly, the food has to taste good-but it helps to have attractive packaging, too.
Think about the children's meals you've seen in fast-food restaurants you've visited. Many fast-food restaurants pack their children's meals in boxes or bags that make the meals more convenient to carry out. Some packaging materials do double duty, providing games, puzzles or comic strips that entertain kids while they eat. All packaging must look appealing to kids.
With your team, conduct some research to find examples of children's meals, either online or in real life. Talk with your team about what you like and dislike about the packaging. Think about what is appealing and practical for families on the go. Brainstorm how you would like to package your children's meal. Answer the following questions on page 13 in your Engineering Portfolio.
How will the packaging of your children's meal appeal to kids, who will be eating the meals?
How will it appeal to parents, who will be buying the meals?
Will your packaging contain elements that will entertain children? If so, how?
Will your packaging contain elements that will keep components of the meal separate? If so, how?
Remember that the cost of your packaging will need to be included in the $6 total for your meal.